Health Disclaimers
The health and fitness industry has always been popular in the US, but thanks to the rise of smartphones and other fitness gadgets, the number of people downloading health and fitness apps has skyrocketed.
Websites that stream workouts have become incredibly popular, too. Thanks to them, you can have an instructor talk you through everything from ballet, to kickboxing, to pilates right in the comfort of your own living room.
With all of the fitness websites, apps, and online support available today, people can work out like a pro without actually having to pay a pro to stand in the room and train them. However, because so many people are exercising on their own, it's vital that you understand the significance of health disclaimers. These are important disclaimers whether you're an online fitness junkie or thinking about starting up a fitness website or app of your very own.
What is a Health Disclaimer?
Like other types of disclaimers, a health disclaimer is designed to limit or eliminate legal liability. In this instance, the owner of the website or the creator of the app is creating a disclaimer that says he isn't responsible for what happens if you follow his fitness tips, perform his exercises, or start his workout regimen.
For example, celebrity fitness trainer Jillian Michaels has her own app where you can do interactive workouts, track your progress, and even learn how to make your diet healthier. Because of what her app offers, she has a carefully worded health disclaimer:

Michaels' health disclaimer makes it clear that the information on her app isn't a substitute for a trip to your doctor and that you shouldn't use her content as your sole decision-maker. Even more importantly, her disclaimer says, "The use of any information provided on this site is solely at your own risk." In other words, if you get sick or injured after using her app or taking her advice, Michaels isn't responsible for it.
As another example, if you're a beginner, Nerd Fitness is a blog that can help you kick off a fitness regimen. With a name like "Nerd Fitness," you can't help but be entertained, right? But amidst all of the fun, there is a very serious disclaimer:

This is a short statement, but it carries a lot of weight. This disclaimer is Nerd Fitness' way of telling you that if something happens to you as a result of using the tips, techniques, and other information on their website, they're not legally liable for it.
Then, they move onto a disclaimer that's more health-related: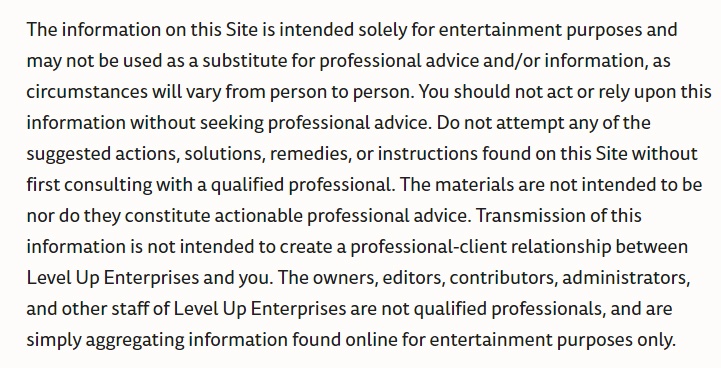 The team at Nerd Fitness knows that everyone's bodies react differently to exercise, and some of those reactions aren't good. That's why they encourage you to consult "with a qualified professional" before you follow any of their tips or regimens.
Then they specifically say that their parent company, Level Up Enterprises, along with the website's "owners, editors, contributors, administrators, and other staff" aren't qualified professionals. That means you can't count solely on them to make decisions about what your body is and isn't capable of.
Here's an example that you may find a little surprising:
You probably don't think that ballet class comes with a big risk of getting hurt, but nevertheless, Ballet Beautiful -- a website that offers live, interactive ballet classes -- has a big, bold health disclaimer:

Health disclaimers aren't just for websites and apps, though. Some personal trainers use them, too. For example, HealthFIT is a website where you can sign up for a personal trainer to come to your home, office, or anywhere else you want to squeeze in some exercise time. They also offer online training sessions that are personalized for each customer.
But no matter which option you choose, HealthFIT has a prominent health disclaimer which it titles an "Exercises Disclaimer":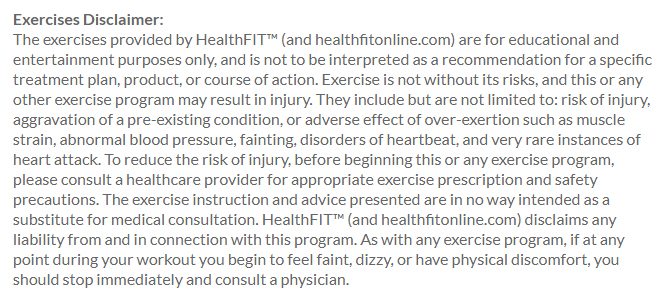 This health disclaimer comes right out and tells you that "this or any other exercise program may result in injury." Then, they list several health problems that can be caused or aggravated by exercising.
Why do they go into all of this detail?
Because they want you to know exactly what you're getting into. This disclaimer suggests that you talk to your doctor before starting their exercises and to stop immediately if you start to feel any kind of pain or dizziness. As a result, HealthFIT isn't legally liable if you weren't healthy enough to exercise in the first place or if you get sick or injured while exercising. If you tried to take them to court, they would argue that you knew all about the risks and proceeded anyway.
For a look at another comprehensive health disclaimer, head over to Beachbody's website. Its customers can log onto the Terms of Use page to see a detailed health disclaimer: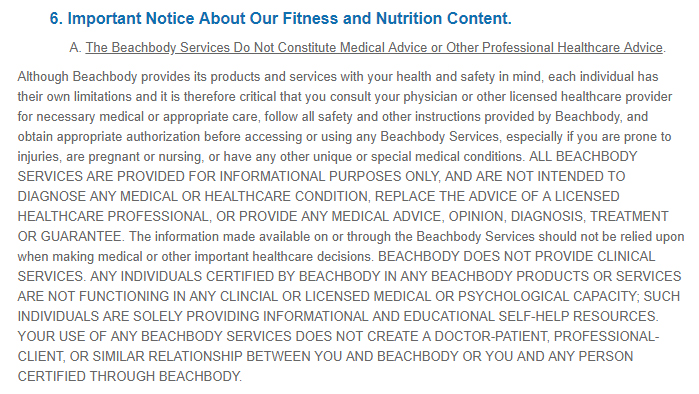 This health disclaimer is one of more than three dozen clauses on Beachbody's Terms of Use page. They make it clear that you should talk to your doctor first, especially if you have some kind of health condition that would give you a higher chance of something going wrong during their training regimen.
But the biggest print is reserved for the part of the disclaimer that says you and Beachbody do not have a "DOCTOR-PATIENT RELATIONSHIP." Because everyone's different, Beachbody won't take legal responsibility for your individual use of their products and services.
Beachbody has to be much more detailed with their health disclaimers because they offer customers so many different products and services. From streamed workout classes, to nutritious shakes, to weights and resistance bands, there is a near-endless array of risks and issues that can pop up. As a result, Beachbody has to account for all of them.
Meanwhile, the owner of HeartMyBody Fitness has taken a completely different approach to her health disclaimer:

This disclaimer is short, sweet and to the point. Its main focus is the owner's lack of professional accreditations. She admits that she's not "a physician, nutritionist, or registered dietician." As a result, you should not solely use her information to make any health or fitness decisions.
How is a Health Disclaimer different from a Medical Disclaimer?
"Health" is a much broader term.
Typically, medical disclaimers talk about specific diseases or conditions, how they may be diagnosed or treated, and how you're supposed to use the information simply as a supplement for your own diagnosis or treatment. They often look like actual medical advice, which is why the disclaimer has to be worded so carefully.
A health disclaimer, on the other hand, can cover anything from diet program results, to fitness injuries, to general health-related information.
As a good rule of thumb, if you're on a fitness website or app, you're likely dealing with a health disclaimer. If you're on a doctor-related or pharmaceutical website or app, you're likely dealing with a medical disclaimer.
What language should you use in your Health Disclaimer?
While the exact wording will depend on what kind of information you're providing, there are three phrases that pop up in most health disclaimers:
"Use at your own risk"

We saw this phrase used by both Jillian Michaels and Nerd Fitness. It's a vital part of health disclaimers because it's considered a formal warning to readers and customers. The disclaimer informs you of the risk you're about to take on, and that by continuing, you're agreeing to the terms of the disclaimer.

In health disclaimers, the risk is two-fold. For starters, exercise is inherently risky. After reading the disclaimer, you know that your website, app, or trainer isn't going to take legal responsibility if something happens to you. By agreeing to this disclaimer, you're accepting the risk of working out AND being on your own for medical bills and other consequences.

"Not responsible for errors or omissions"

This is another phrase that you'll find on most website and app health disclaimers because it accounts for human error. As much as the owners of these websites and apps strive to make everything perfect, mistakes are still possible. By adding this language to your health disclaimer, you're telling people that if you made a mistake or accidentally left something out, you're not legally liable for what happens.

Take a look at the health disclaimer for Rock Solid Wholesale, a company that sells special fitness machines:

Because Rock Solid Wholesale's website contains research and workout guides in addition to the machines, the company admits that there could be errors or omissions -- and if there are, they aren't responsible for "any consequences" that happen as a result of them.

You won't just see this wording on websites, though. When the American College of Sports Medicine published its book Complete Guide to Fitness & Health in 2017, they made sure to include this type of health disclaimer:

They made sure to include the "authors, editors, and publisher" in their disclaimer so that readers won't try to hold anyone involved in making the book legally liable for what happens to them if the book contains an error or an omission.

"Results not typical"

Oftentimes, a fitness program or diet product will show the awesome results of real-life customers. It's definitely an attention-grabber, but if you use one of these before-and-after stories, you'll need to add "results not typical" to your health disclaimer.

However, thanks to a ruling by the Federal Trade Commission (FTC) in 2009, this phrase can't be used all by itself because it's too vague. Now, advertisers and publishers have to include some context in their disclaimer as well.

For example, the health disclaimer that Nutrisystem uses here explains the exercise plan that Audrey used to lose those 24 pounds:

If you read the entire disclaimer, you'll see that Audrey did the P90X double program, while also going out for frequent runs and bike rides. Now it's more clear that Nutrisystem isn't some magic pill that can make you lose weight without any effort.
Need help generating your own Health Disclaimer?
There are free templates you can download. All you have to do is type in a bit of basic information, and the template will take care of the rest: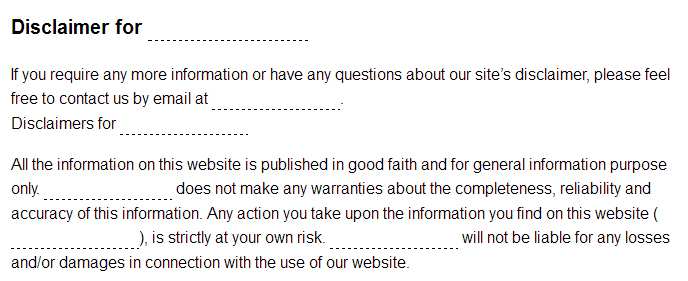 This disclaimer is very general. Consider it the "skeleton" for your disclaimer; it's up to you to provide the "meat" for its bones.
This disclaimer already contains one of the common phrases we talked about above -- "at your own risk." Depending on what your website or app offers, you can also include "Not responsible for errors or omissions" and "Results not typical" if you want.
Just think about the risk that comes with your particular content and the clearest, most matter-of-fact way to inform your users about that risk.
If you're into fitness, you're going to come across plenty of health disclaimers. When writing your own disclaimer, use these examples as a guide. If you follow the same path that these professionals have, you'll be well on your way to a successful and "healthy" health disclaimer that can protect both you and your customers.